Digging in Storage: Notable and Noteworthy Objects from the ASM Collections
Arizona State Museum's collections—numbering some 3 million cataloged objects, 38,000 cubic feet of bulk research materials, and growing daily—are vast and varied. There is a great variety of interesting, remarkable, unique, and even strange, objects in our vaults. 
See also Curator's Choice for even more interesting, unusual, and curious items.
---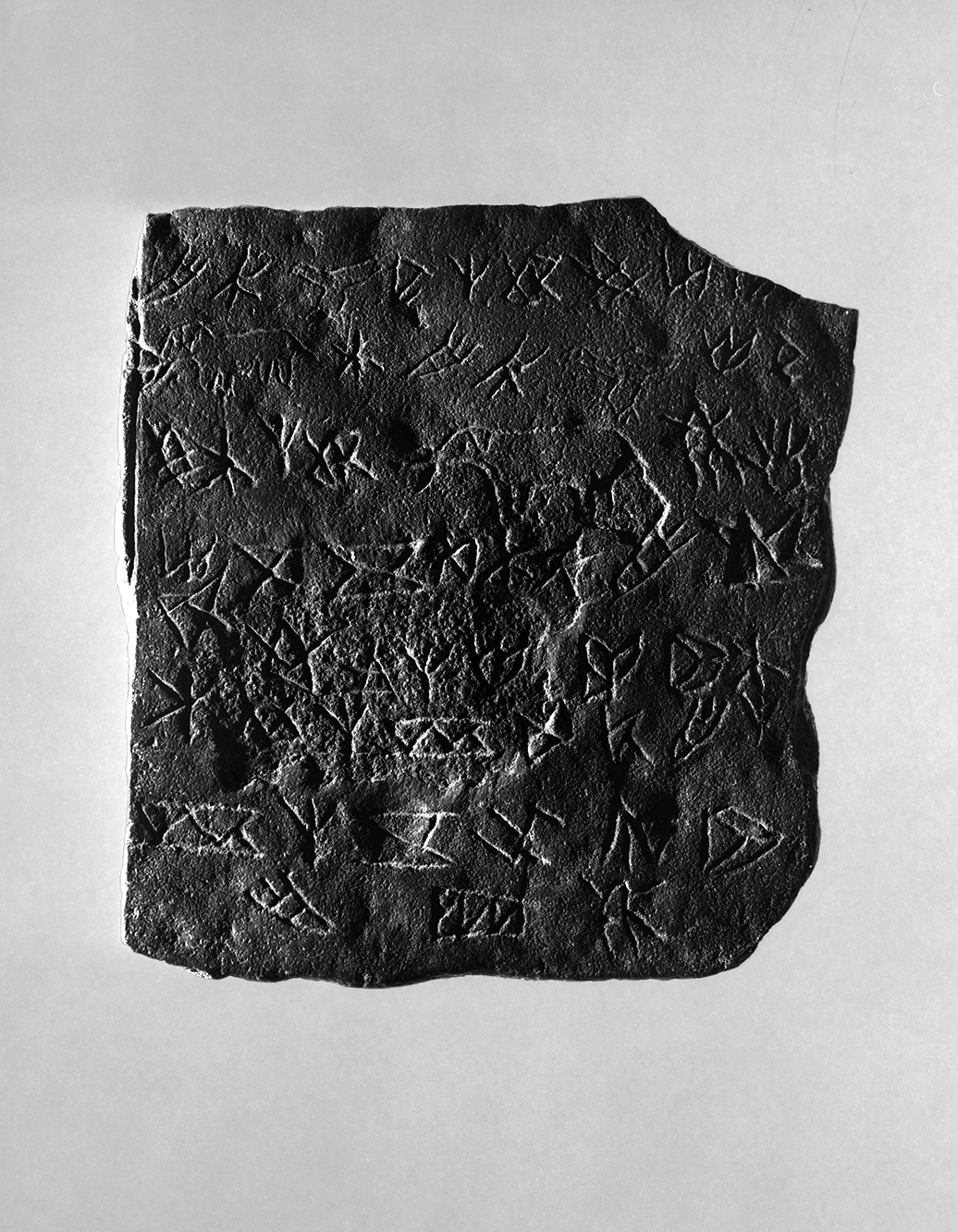 Elephant Slabs. The so-called "elephant slabs" are two small pieces of sandstone which are inscribed with various geometric and figurative shapes, including two that look like elephants. The slabs are reported to have been found by a youth named Dick (Richard) Terrell in the early 1900s at the Flora Vista Ruin, an Ancestral Pueblo (Anasazi) site located on a bluff above the Animas River, opposite the town of Flora Vista, in northwestern New Mexico. Around 1910, the slabs were acquired by a Farmington, New Mexico businessman named Avery Monroe Amsden.
In 1929, one of the slabs (GP52822) was acquired by Harold S. Gladwin for his Gila Pueblo Archaeological Foundation in Globe, Arizona. In the same year, the Flora Vista Ruin was visited and photographed by Ted Amsden, Avery Amsden's son, for the Gila Pueblo Archaeological Survey. GP52822 was donated to the Arizona State Museum by Gladwin when Gila Pueblo was dissolved in 1950. The second slab was given by Amsden to the southwestern archaeologist, Earl H. Morris, sometime before Amsden's death in 1947. Morris, in turn, donated it to the Arizona State Museum in 1953. Its catalog number is A-11946.
Though the sandstone could certainly have come from the area, the incised slabs are, in fact, not actual artifacts produced by the ancient people of the Four Corners region. The images—elephants, birds, a mountain lion(?), geometric shapes (including some that resemble cattle brands)—are deeply and precisely incised, probably with a metal tool. It is still not known exactly what the slabs' origins or purpose were. Intentional hoax? Practical joke? Treasure map? Mormon-produced tablets? The unknowns have made them popular objects of conjecture and have, over the years, captured the imaginations of mystery writers, treasure hunters, and conspiracy theorists.
What do most archaeologists think about them? Experts who have examined the Elephant Slabs have concluded they are fakes, with good reasons:
Written accounts of their discovery disagree on important details.
Every other "ancient" object from mainland North America purported to depict European or Middle Eastern writing has proven to be a hoax, although authentic objects bearing Norse writing have been recovered from Greenland.
Research over the last several decades has shown that mammoths died off in North America thousands of years before the pueblo at Flora Vista was occupied.
No ancient object bearing similar symbols—or depictions of elephants—has ever been found in the Southwest by a professional archaeologist.
Historical Context: In 1864, a carved tusk with a depiction of a mammoth was discovered in La Madeleine France. One of the earliest human artifacts found, it was also the first to indicate the co-existence of man and now extinct ice age animals. This dramatic find was of tremendous popular interest and led to speculation over the age and origin of American archaeology. What followed was a flurry of controversial "discoveries" of ancient artifacts in America, now known to be frauds that in some cases were perpetrated by the archaeologists themselves. Several of these "artifacts" contained depictions of elephants, like the Davenport Elephant Pipes (d. 1877), the Lenape stone (d. 1872), and the Holly Oak pendant (d. 1864).  
------------
ASM Catalog No. GP52822
Stone slab with incised symbols and images of animals
15.6 cm long, 14.6 cm wide, 0.9 cm thick
Reportedly found near Flora Vista, New Mexico
Gift of Gila Pueblo Archaeological Foundation, 1950
ASM Catalog No. A-11946
Stone slab with incised symbols and images of animals
36.0 cm long, 19.0 cm wide, 1.0 cm thick
Reportedly found near Flora Vista, New Mexico
Gift of Earl H. Morris, 1953
------------
Pictures of the elephant slabs, "translations," and interpretations of the incised motifs have been published in numerous places, including Fantasies of Gold: Legends of Treasures and How They Grew by E.B. "Ted" Sayles with Joan Ashby Henley (pp. 87-102), University of Arizona Press, Tucson. 1968.
---
Ansel Adams's Dinnerware Set. Ansel Easton Adams (February 20, 1902 – April 22, 1984) was a landscape photographer and environmentalist known for his black-and-white images of the American West. Here you see laid out a dinnerware set owned by famed photographer. His photographic archive is the cornerstone on which the University of Arizona's Center for Creative Photography (CCP) was established in 1975. At the same time that Adams's photographic archive went to CCP, this dinnerware set came to ASM. He commissioned the pieces from renowned San Ildefonso potter Maria Martinez and her husband, Julian, in 1929. In 1950, Adams commissioned several replacement plates from Maria who was by then working with her daughter-in-law, Santana Martinez. Julian had passed away in 1943. (1977-63)
---
Chancay Manta, Peru, 1000-1476 CE. A cotton/wool textile, composed of five strips joined at the edges, is rich red in color (color photo coming soon) with polychrome feline motifs (probably jaguar) used possibly as a blanket, wrap-around skirt, or wall hanging. The Chancay is a major ceramic style and kingdom centered on the Chancay and Chillon valleys on the northern coast of Peru dating to the Late Intermediate Period (ca. 1000-1476 CE). The Chancay kingdom was conquered by the Inca empire around 1476 CE. This object was donated to ASM by Frederick R. Pleasants ca. 1959. (ASM A-24601, slit tapestry weave, 205 cm long, 260 cm wide, cotton warp, wool weft)
---
Clovis Bone Shaft Wrench (and Covis point), Cochise County, Arizona, about 13,000 years old. This artifact is the only known complete one yet discovered. A tool of Paleoindian mammoth hunters, this object is made of bone, probably mammoth rib or long bone. It exhibits beveling and polish on the upper and lower interior surfaces of the "eye" of the wrench, suggesting possible use in straightening spear shafts which were then used to hunt mammoth and other now-extinct Pleistocene megafauna. Discovered by a UA Department of Anthropology expedition led by Dr. Vance Haynes to the Clovis site of Murray Springs, San Pedro River Valley, southern Arizona, it came into the ASM collections in 1967. (ASM A-32640, 25.9 cm long, 5.8 cm wide, 2.1 cm thick)
---
Coronation Procession Set. This set came to ASM in 1968 as a gift from Mrs. John Wells Heard (Daisy C. Heard, 1906-1997) (no known relation to Dwight and Mae Heard, founders of the Heard Museum in Phoenix). She was present at the coronation of Queen Elizabeth II on June 2, 1953, and purchased what she claimed was one of two plaster sets made to commemorate the event. Mr. and Mrs. Heard lived primarily in Texas, much of the 1940s and 1950s in San Antonio. Mr. Heard was a cattleman. He died in 1956. At the time of the donation, Mrs. Heard was living in Tucson.
This set is fantastic but completely outside of ASM's current and anticipated future scope of collecting. It is on our list of items to potentially deaccession. According to ASM's deaccession policy, we are to first seek to transfer deaccessioned items to other public institutions in the state. Stay tuned to see where this set might end up! (AP-2089)
Note: Hover your cursor over the image to halt the slideshow.
---
Rabbit Nets. This net is made of mostly knotted human hair with yucca fiber cordage and was used by a Hohokam community to corral and hunt jackrabbits. Discovered in 1962, it is from a cave in the Altar Valley, southwest of Tucson, and dates from 1250-1450 CE. Rabbit hunts involved driving the critters toward a long, low net and then clubbing them as they became entangled. The net in this photo, unfurled in 1967 by Curator of Exhibits Ernie Leavitt (foaeground), assisted by Robert Medieros, measures 43 inches wide and 165 feet long. Several prehistoric rabbit nets have been found in southwestern caves. ASM has 15 nets and 42 net fragments. (Photo by Helga Teiwes, 1967. ASM 15920)
---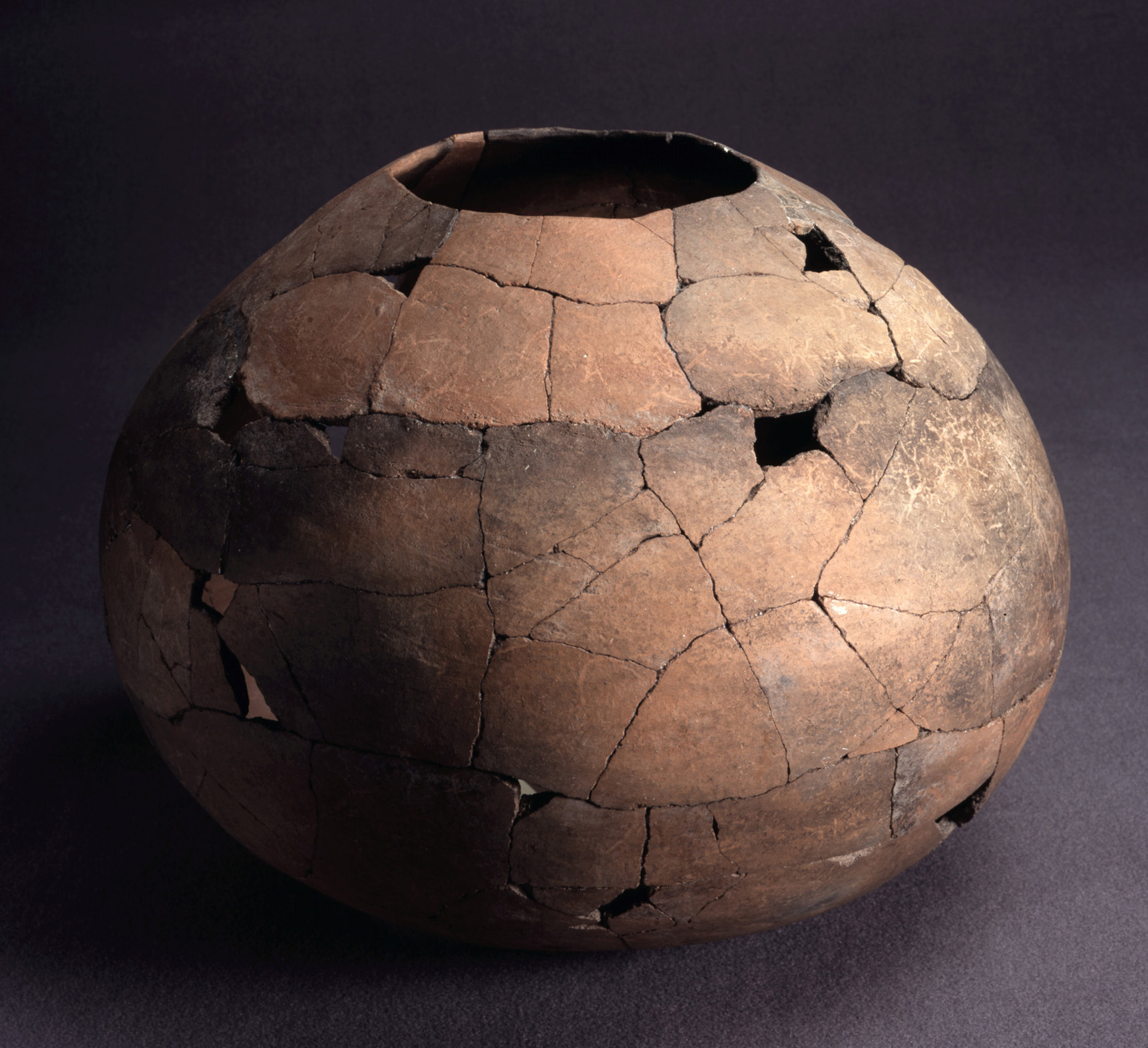 Seed Jar, Agua Caliente Plain Type, Early Formative, Tucson Basin. This is one of the oldest southwestern vessels in the ASM collection and one of the earliest yet found in the region, dating to approximately 450 CE but representing others like it dating as far back as ca. 50 CE. This seed jar was found in a pit house at the Stone Pipe Site, near Prince Road and the I-10 frontage road in Tucson. It came into the ASM collections in 1998 as most do, by way of the archaeological repository, discovered as a result of an urban expansion project. Four-fifths of the objects in the ASM collections are of an archaeological nature/context. ASM is the largest and busiest state-run archaeological repository in the nation. (ASM #98-136-177, 29.7 cm high, 31.3 cm diameter)
---
The North American Indian by Edward S. Curtis, published 1907-1930. ASM holds a complete set of Curtis's massive life's work: a series of 20 volumes of text describing and 20 portfolios of photogravures illustrating the Indian peoples of the United States and Alaska. Lauded and decried, the iconic, sepia-toned images created by the famed photographer have fascinated generations of audiences and, for better or worse, continue to influence how people around the world think of American Indians. ASM's is one of only three complete sets in the state of Arizona. Written, illustrated, and published by Edward S. Curtis, edited by Frederick Webb Hodge, foreword by Theodore Roosevelt. Field research conducted under the patronage of J. Pierpont Morgan. The text volumes were donated in 1957 to the UA Department of Anthropology by Walter R. Bimson, president of the Valley National Bank. The portfolios came to ASM in the 1970s from Watson Smith, who acquired them from an out-of-business rare-book seller in Boston, the Charles Lauriat Company.  
---

Fragment of a Sacred Fur Robe of the Ninth Panchen Lama, Tibetan, ca. 1930. The fur robe was in the possession of the Ninth Panchen Lama, Qujie Nima (1883-1937), the abbot and second-highest religious leader of Tibet, when he fled his country in 1933 because he believed the Thirteenth Dalai Lama was attempting to poison him. For protection, the Panchen Lama joined a Yale-sponsored expedition traveling in Tibet that was led by scholar Eugene Lamb and accompanied by adventurer John A. Logan III. The team had been in Tibet for about a year by the time it encountered the Panchen Lama. In gratitude for the group's help, the Panchen Lama gave a portion of his fur robe to Mr. Logan. Other fragments were given to fellow Tibetans in the party. The entire robe was made up of approximately 20,000 tiny fur fragments collected from an estimated 5,000 foxes and sewn together by young girls. The Ninth Panchen Lama died in exile in China in 1937. ASM received the robe section in 1965 from John A. Logan III, who was living in Tucson at the time. Logan was the grandson of the Civil War general John A. Logan. (ASM Catalog No. E-6501, fragment size is approximately 24" x 28").
Note: Hover your cursor over the image to halt the slideshow.
---
Glass Stereo Photos of Egypt, early 20th century. ASM's photographic collection includes a stereoscopic glass slide viewer and 160 glass stereoscopic slides. An ancestor of modern 3D image technology, the viewer was made by Franke and Heidecke of Braunschweige, Germany. The slides were taken in 1928 by the father of former UA economics professor John M. Frikart, who donated the collection in 1963. Stereoscopy is a technique for creating the illusion of depth, presenting two offset images separately to the left eye and to the right eye of the viewer. The two images are then combined by the brain, giving the perception of 3D depth. The slides come complete with typed notes about each and hand drawn maps that show the places visited and photographed. All slides are in excellent condition. (ASM Catalog No. E-5626 and PIX-521-x-1 to 160)
---
Tapa Cloths. Made of wood bark, tapa cloths are produced by peoples of the islands of the Pacific. They are used as clothing, bed cloths, and other household purposes, but they can also have ceremonial functions. The 20 in ASM's collection are from Samoa, Fiji, Tonga, and Hawaii, and were collected in the 1930s and 40s. Conservator Dr. Christina Bisulca (center) is examining a tapa made of pounded paper mulberry bark. Helping her are Gina Watkinson (top of the frame) and Kate Acuña (bottom of the frame) from the ASM conservation lab.
---
Ancient Mediterranean Collections. Click the link below to see highlights from ASM's collection of some 520 ancient Near Eastern, Egyptian, Greek, Etruscan, and Roman objects. The vast majority of these were acquired in the early days of the museum's history from the 1890s to the 1930s through exchange, donation, and less commonly, by purchase. Each has an individual story to tell—where it was made, where it was found, its historical importance, or of its collector.
https://statemuseum.arizona.edu/online-exhibit/ancient-mediterranean-collections
---
Man in the Maze Plaque. This is an Akimel O'odham (Pima) plaque made around 1900-1915 and collected by Perry Merrell Williams of Maricopa, Arizona. Sadly, Mr. Williams did not record its maker.
Williams bought and sold O'odham basketry after he arrived in Maricopa to work on the railroad around 1880.  In 1917, he loaned his incomparable basketry collection to the Arizona State Museum, and in 1968 his son, Perry M. Williams, Jr., turned the loan into a gift.
This piece is significant because it's the earliest known example of the Man-in-the-Maze motif, the iconic O'odham cultural symbol, on a basket.
The weaving technique is coiling, one of the four major basketry techniques. The other three are plaiting, wicker and twining. The materials here are willow for the lighter field, and devil's claw for the black. The foundation for this basket is bundles of cattail stems. 
Notice that the person is wearing a skirt or perhaps a kilt! This feature was first pointed out by O'odham attendees at a Four Southern Tribes meeting to discuss the plans for ASM's permanent basket exhibit Woven through Time, which opened in 2017. The figure is usually identified as I'itoi, the O'odham Elder Brother. Is that who the weaver intended to represent here?  There are a number of variations in describing the maze symbolism, but O'odham often describe it as the path through life, with different twists, turns and choices.
Contemporary Tohono O'odham basketry artist Terrol Dew Johnson learned to weave the man-in-the-maze design from his mentor, Margaret Acosta, who was well known for her maze baskets.  He once commented that it is a very difficult design to render, and from personal experience, understands that weavers believe they have really "made it" once they master the technique.
Read more about Perry Merrell Williams:
Higgins, Andrew
2013 Five Collectors & 500 Baskets at the Arizona State Museum, American Indian Art magazine, Winter 2013 (volume 39, issue 1), pp. 34-43.
---
Mojave and Quechan Figurines. Mojave and Quechan people from the Lower Colorado River have a long tradition of figurative ceramics. Beginning in the late 19th century, with the coming of the railroad, women from both of these Yuman-speaking tribes began to make and sell ceramic figures and other wares for sale. One way they sold them was to set up at the railroad stops in Yuma and Needles, offering their pottery along with beadwork and other crafts to travelers they encountered there. 
The artisans dressed their low-fire redware figures with traditional, minimal clothing and beaded ornaments of the Yuman peoples of the Lower Colorado River. They decorated the figures with typical body paint designs, and added black facial marks to indicate tattoos. Long black hair, usually horse hair, was glued on and added a further realistic touch. Other common additions included pots balanced on heads, babes in arms, and for men, bows and arrows. 
Mojave pottery figures are distinct in having additional yellow ochre coloration on the bodies. 
ASM received a group of 25 Quechan doll figures that were collected around 1900 by our first curator Herbert Brown (served 1893-1912). For a portion of his tenure at ASM, Brown split his time between Tucson and Yuma, serving as the warden of the territorial prison in Yuma from 1898-1902. An assortment of these figures appeared on the front cover of the November 1959 issue of Arizona Highways magazine containing an extensive article about ASM. 
These figure continued to be made by a few potters into the 1960s. One of the last Mojave potters to make them was Annie Fields. Through the years, other examples have been donated, and today number 44---34 of which are Quechan and the remaining ten are Mojave. 
For more information about this Southwest ceramic tradition, see Furst, J. (2001). Mojave pottery, Mojave people : The Dillingham Collection of Mojave ceramics (1st ed.). Santa Fe, N.M.: School of American Research Press.
---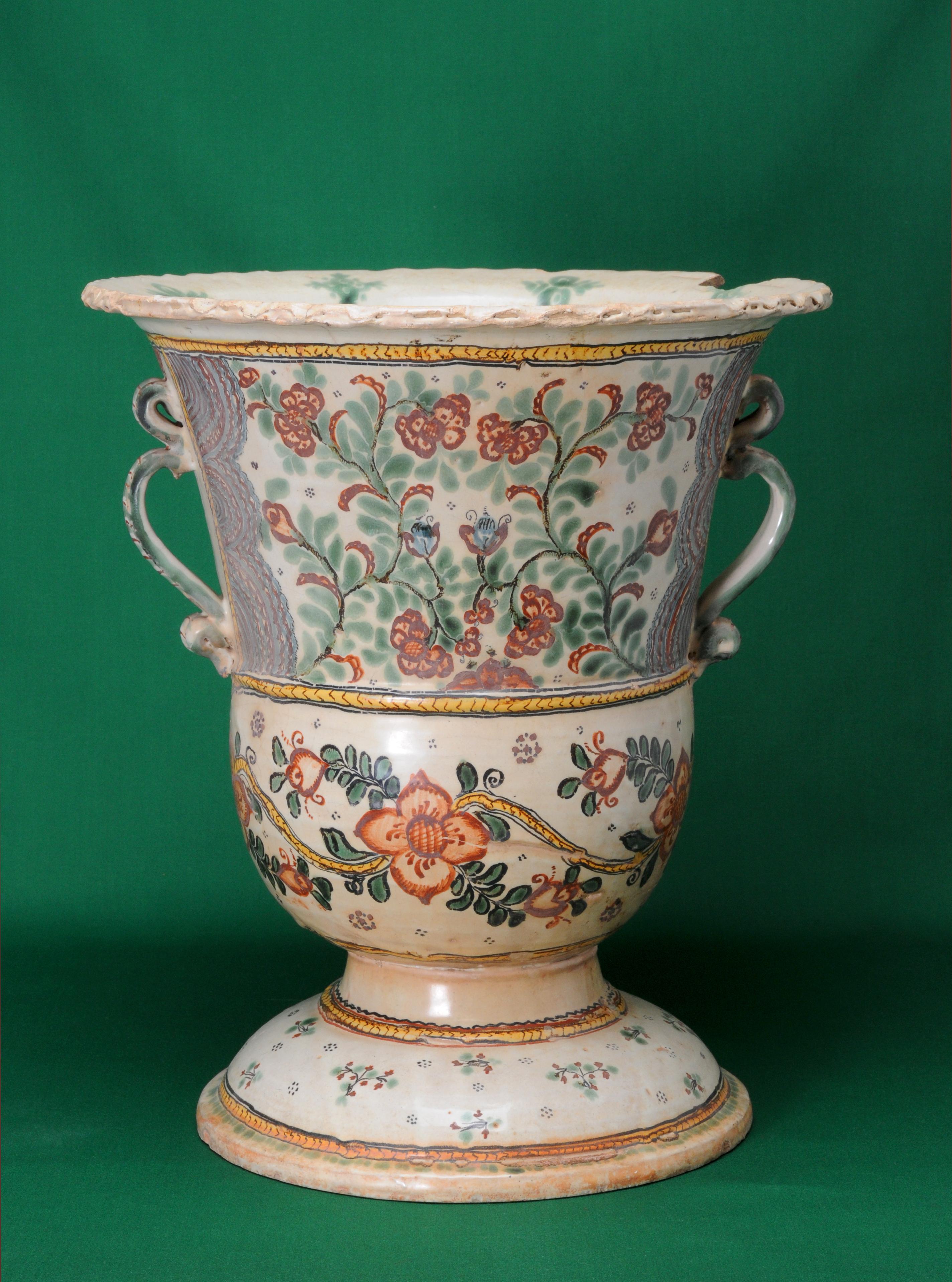 Majolica Flower Urn, ca. 1850. Spaniards brought the majolica decorative pottery tradition to Mexico where it became known as talavera--after the town in Spain noted for its production of fine ceramics. Majolica production found a home in Puebla because of its rich clay deposits. Today, Puebla remains the primary center of talavera production and distribution. We might imagine a well-heeled family in mid-nineteenth-century Mexico filling this urn with holiday poinsettias in preparation for the traditional posadas that marked the nine days before Christmas. Its donor Eman Beck, owned the Sopori Ranch in southern Arizona in the 1940s and was a major collector of Mexican colonial art. (ASM E-4724)
---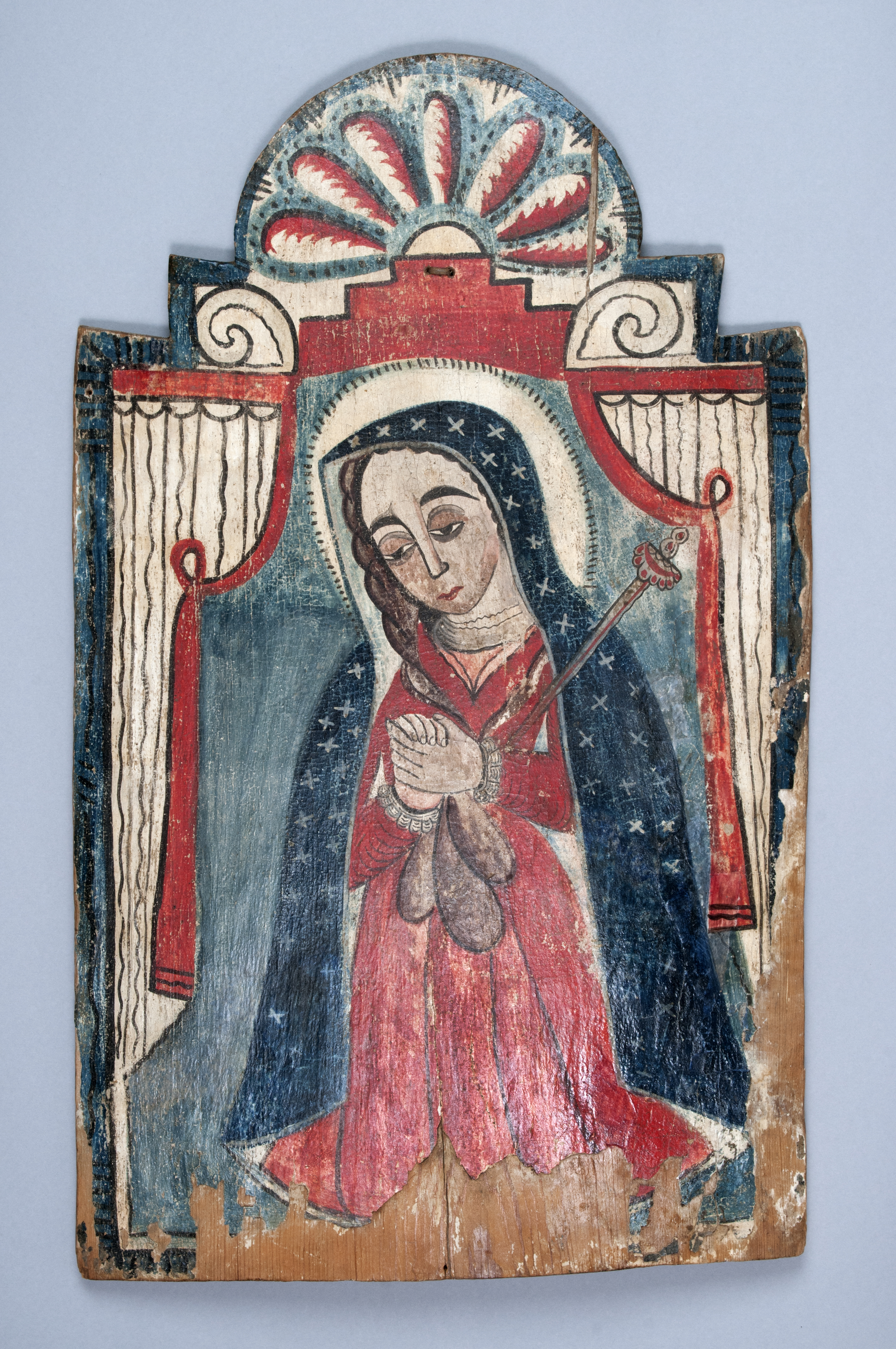 Our Lady of Sorrows Retablo, ca. 1826-65. In difficult and uncertain times, we are reminded how different peoples may find solace in the religious and spiritual dimensions of their cultures. Here the Virgin Mary contemplates what has happened to her son and expresses the sorrowful pain of a loving mother. For many who grow up in the traditions of Hispanic Catholicism, Our Lady of Sorrows shows the way to the fullness of grace through selflessness and generosity. But these virtues extend beyond any one faith community. Objects like this can remind us that kindness and charity in the face of sorrow and adversity can foster peace and goodwill among all peoples. 
------------
Our Lady of Sorrows Retablo, ca. 1826-65
Attributed to José Rafael Aragón
Painted on gessoed pine
Spanish-American, Santa Fe, New Mexico
Gift of Ernest N. Stanton, 1962
Catalog No. E-5342
---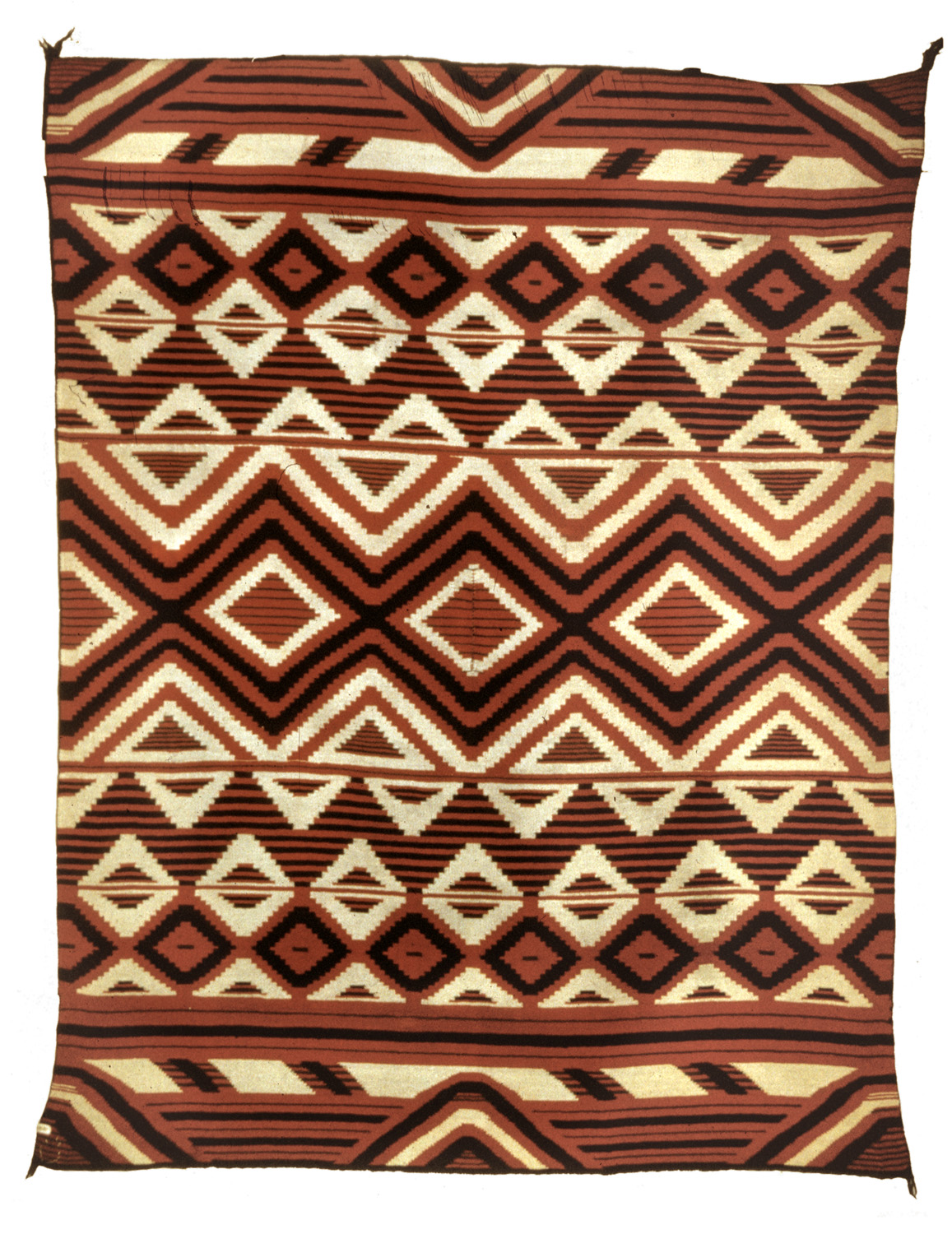 This Classic Period Navajo (Diné) sarape is woven of handspun vegetal-dyed and raveled red cochineal-dyed yarn (tested in 1982 under the direction of Navajo textile scholar Joe Ben Wheat). The slit in the center is a Spider Woman hole. This sarape was collected around 1870 by John Sanford Mason (1824–1897), a West Point graduate and career Army officer who served in the Mexican-American War and in the Union Army during the Civil War. From March 7 to July 21, 1865, Mason was commander of the "District of Arizona." He died a brigadier general in 1897 and is buried at Arlington National Cemetery. In 2012, this and 4 other Navajo textiles went to Amsterdam to be a featured in an exhibit at De Nieuwe Kerk Museum.
See much more of ASM's 19th century Navajo textile collection here.
------------
Classic Period Sarape
Navajo (Diné)
Weaver unknown
Circa 1840-1860
167 x 131 cm
Wool, Cochineal and Indigo dye
Collected by Lieutenant John Sanford Mason around 1870
Museum purchase from Major Ennalls Waggaman, 1954
Catalog No. E-2724
---
The saguaro design on this basket is rare, if not unique. Nothing says "Arizona" like the saguaro cactus (Carnegiea gigantea), and nothing says "a fantastic Arizona basket" like this coiled willow bowl that is probably Yavapai. The basketry of Western Apaches and Yavapais can be difficult, if not impossible, to distinguish. The two groups were interned together at San Carlos, Arizona from 1875 to around 1900, the heyday of their fine coiled basketry production. No doubt there was cross-fertilization of designs. Apache and Yavapai weavers employed the same materials and techniques of manufacture. There are, however, features that can distinguish Apache from Yavapai styles. Yavapai weavers tend to make greater use of negative designs, crosses, and star and floral patterns, and emphasize overall symmetry. Both groups attach high significance to the number four, reflected here in the four-armed concentric motifs. The Arizona State Museum received this basket as a gift in 2012 from Betty Jo Barney, whose husband, Richard, was a University of Arizona alumnus (class of 1954). Richard had received the basket as a gift from his mother, Hazel McQuary.
------------
Saguaro Basketry Bowl
Willow, Devil's Claw
Probably Yavapai, 1900-1920
Central Arizona
16.5 in diameter
Gift of Betty Jo Barney, 2012
ASM #2012-705-1
---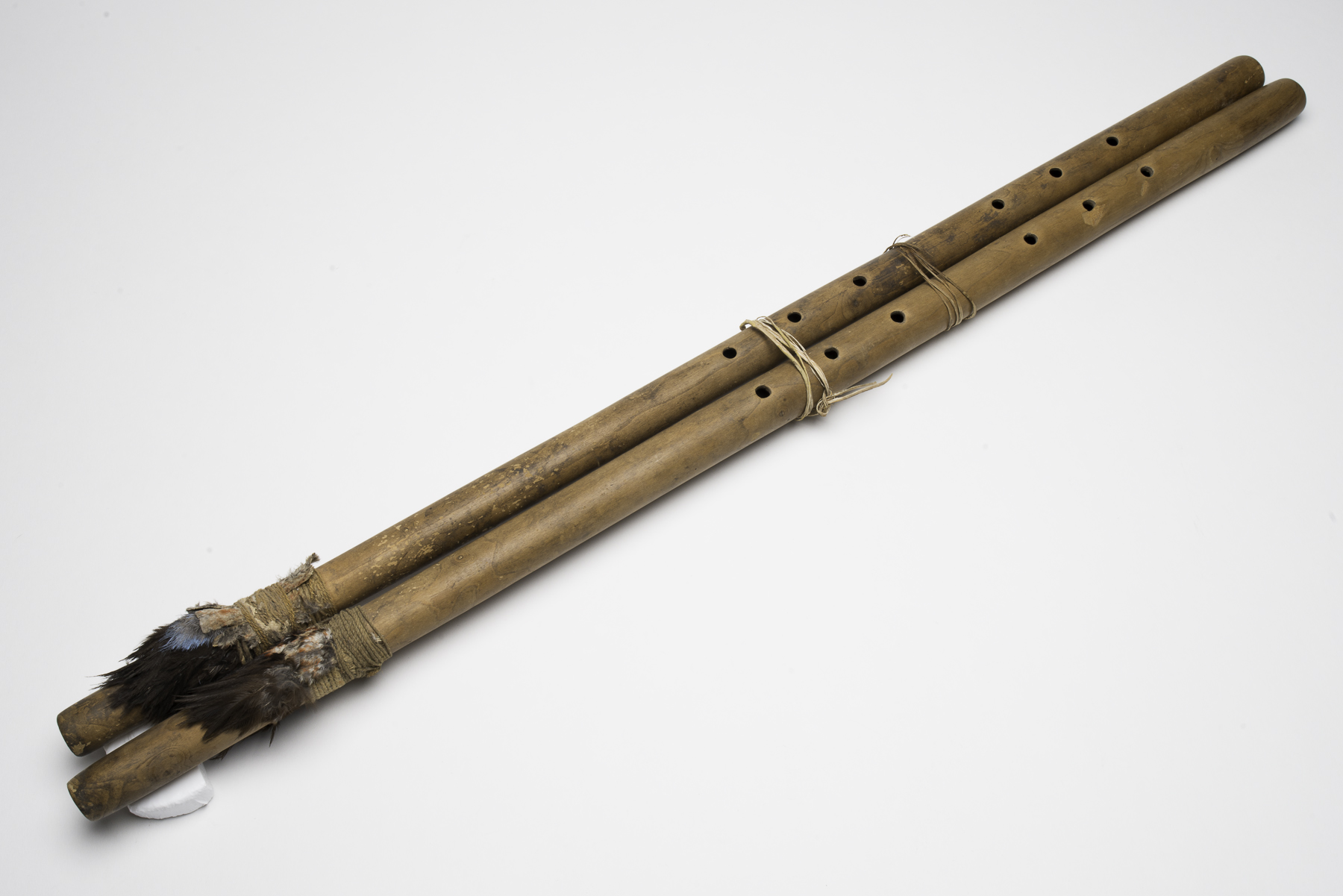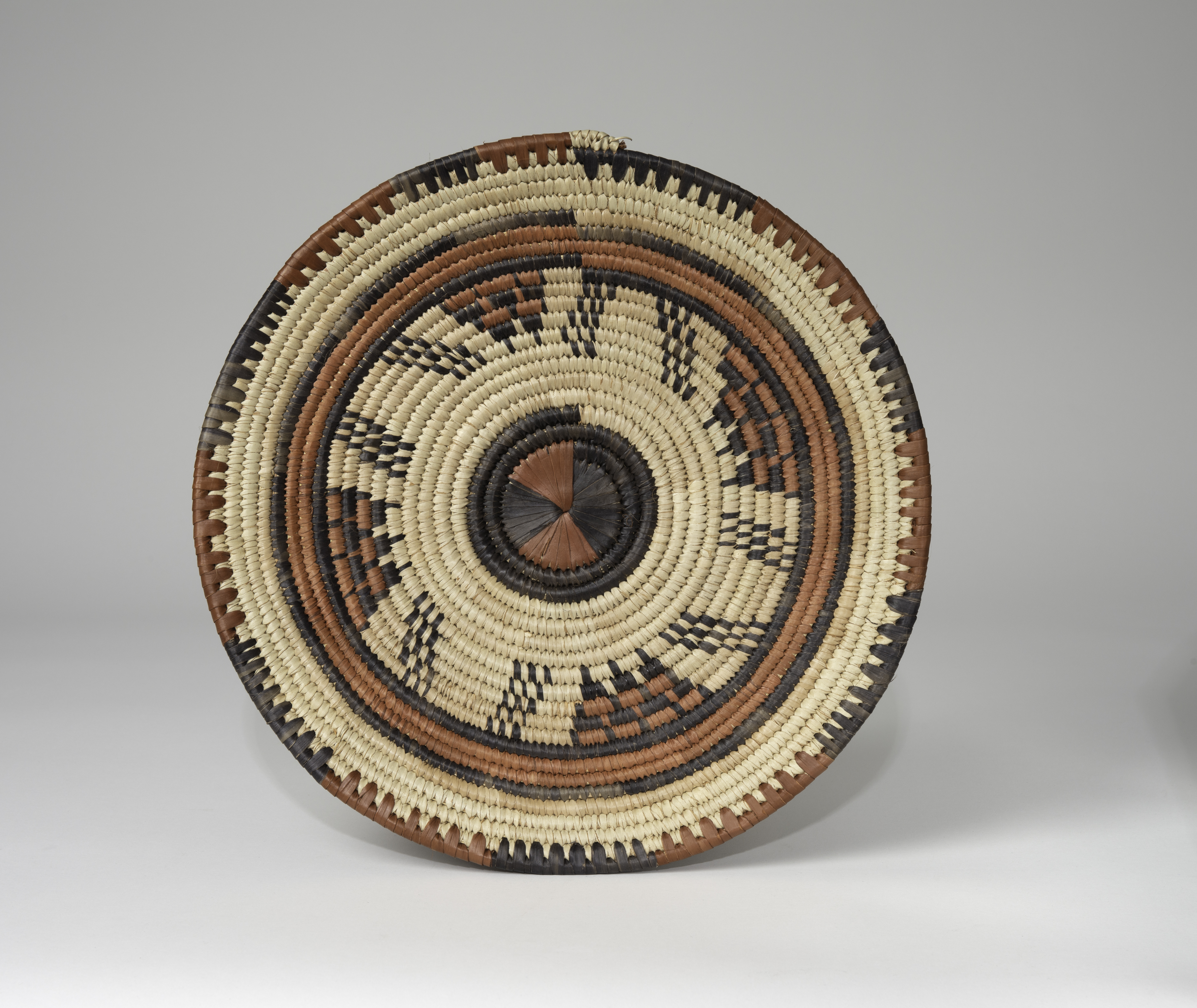 African Baskets. ASM's world holdings include basketry from Africa, Central and South American, Asia, Europe, and the Pacific. Pictured here is a coiled plaque from the Hausa Tribe of Nigeria, ca. 1970. (ASM 1997-156-99)
------------
Arizona State Museum is home to the world's largest and most comprehensive collection of American Indian basketry and fiber art—35,000 specimens representing nearly every major indigenous basket-making culture in North America and dating back some 7,000 years. Click here to see some examples of Hopi basketry: https://statemuseum.arizona.edu/online-exhibit/finger-collection-hopi-basketry
---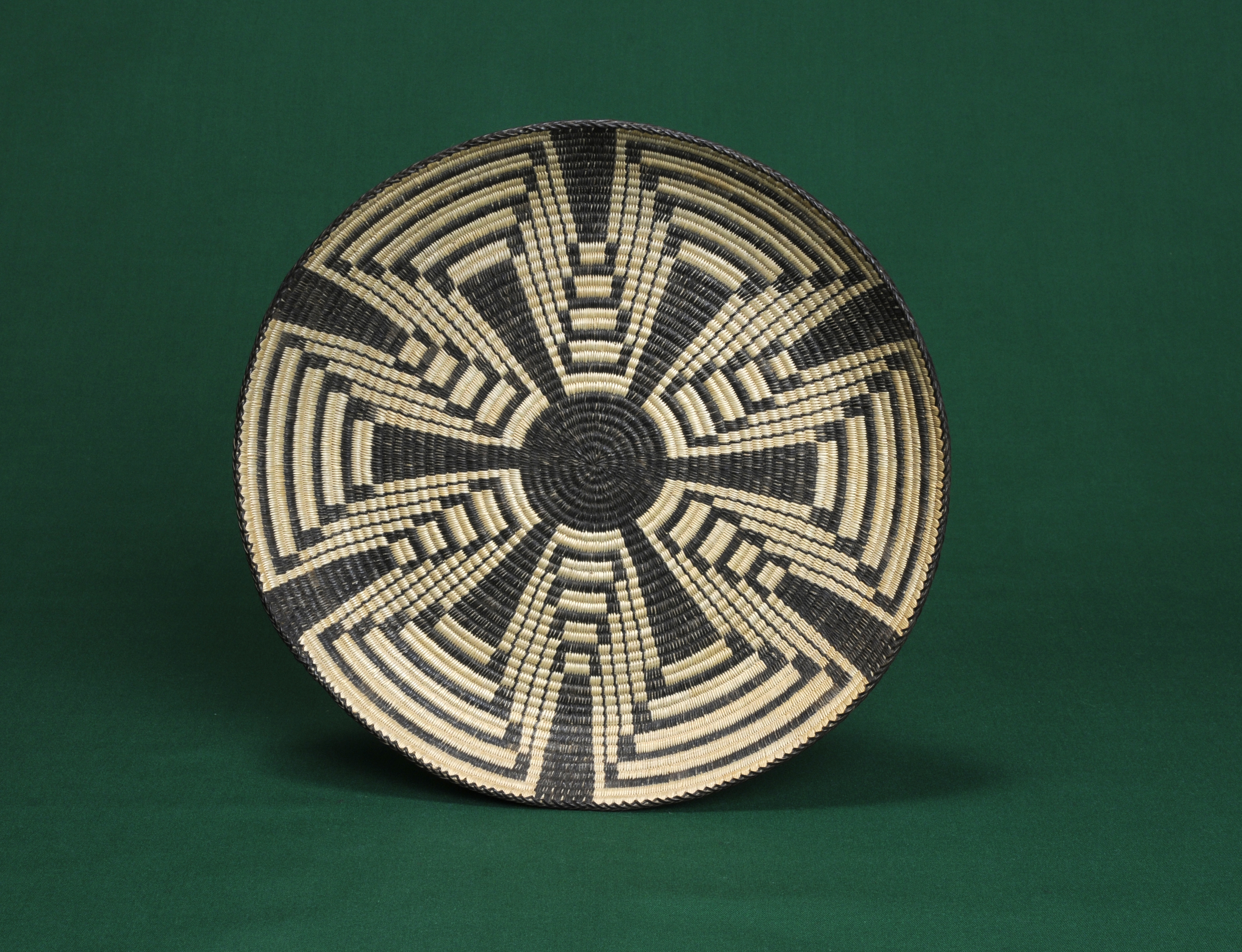 Coiled Squash Blossom Tray. The squash blossom is one of the most common traditional designs on Akimel O'odham and Tohono O'odham coiled baskets. It represents the flower of the plants that are important to the O'odham for food, making gourd rattles, and other purposes. The term may have originally come from a trader's imagination or from a weaver interpreting her own work. In 1902, ethnologist Frank Russell recorded the name for this design as Si'sitcutfik or "very much figured." Ha:l Heosig is a current O'odham language translation for "squash blossom." Regardless of the origin, "squash blossom" has been used to describe this particular O'odham specialty for at least a hundred years. It is common to further distinguish the design by the number of petals or "points." This finely woven Akimel O'odham tray has a six-pointed blossom.
No weaver's name was attached to this tray when Director Byron Cummings acquired it for ASM in 1931, purchased from Anna (Mrs. S.E.) Fullen who ran a curio shop next to the San Marcos Hotel in Chandler. More information came to light, including the identity of the weaver, when curator Diane Dittemore visited the Baltimore Museum of Art (BMA) in the summer of 2018.  She had been invited to assess their collection of southwestern Native basketry.  Included in the BMA collection is an outstanding group of Akimel O'odham baskets, a gift from the estate of former Baltimore resident Florence Reese Winslow. The accessions records include dozens of letters from Mrs. Fullen to Winslow, who had lived in Hayden, Arizona in the late 1920s-early 1930s with her husband who was chief of surgery at the hospital. The newsy letters contain a trove of information about the O'odham weavers whose baskets Anna Fullen carried, and clearly sold in large quantities to Florence WInslow.  One can imagine that collecting basketry was a way for this big city resident to adjust to life in a small Arizona mining town.
To her great delight, Dittemore discovered in these letters references to ASM Director Byron Cummings, including that he had purchased a six-point squash blossom basket made by one Lena Wiston.
Knowing that the people at the Huhugam Heritage Center (HHC) would be quite interested in this BMA collection and attendant accession records, Dittemore arranged for copies of the letters to be provided to HHC archives.  Professional staff at the time hoped to be able to arrange a visit to see the baskets themselves. She also arranged for copies to be sent to the Chandler Historical Society, whose innovative website "Chandlerpedia" provided important information about the Fullens and their curio business.
For more information about Anna Fullen, you may consult Chandlerpedia online.
------------
Coiled Squash Blossom Tray
Lena Wiston
Akimel O'odham (Pima), ca. 1930
Gila River Indian Community, AZ
Willow, devil's claw, cattail
ASM Purchase in 1931 from Anna (Mrs. S.E.) Fullen of Chandler, AZ
19448-x-1
---
Shasta ground sloth (Nothrotheriops shastensis). The sloth populating Arizona during the Pleistocene was one of the smallest, weighing about 500 pounds and standing about 9 feet tall when upright on its hind legs.  Why are we talking about the ground sloth? Well, samples of its dung are in the ASM collections. Some pieces are as large as your head!
The sloth was widespread in the western United States up until about 10,000 years ago. He found caves appealing. This particular dung is from Rampart Cave, located near the western end of the Grand Canyon. Rampart Cave once contained one of the most impressive deposits of Pleistocene mammal remains, including bones, skin and hair, and dung known in North America. Discovered in 1936, the cave was subject of several major research projects until 1976, when an estimated two-thirds of the cave deposits were lost to a months-long fire most likely set by campers or vandals. Prior to the fire, the dung had accumulated to a depth of 20 feet in places and represented two long periods of use, one between 40,000 and 24,000 years ago, and one between 13,000 and 11,000 years ago (source: https://swvirtualmuseum.nau.edu/wp/index.php/national-parks/grand-canyon-national-park/rampartcave/).
---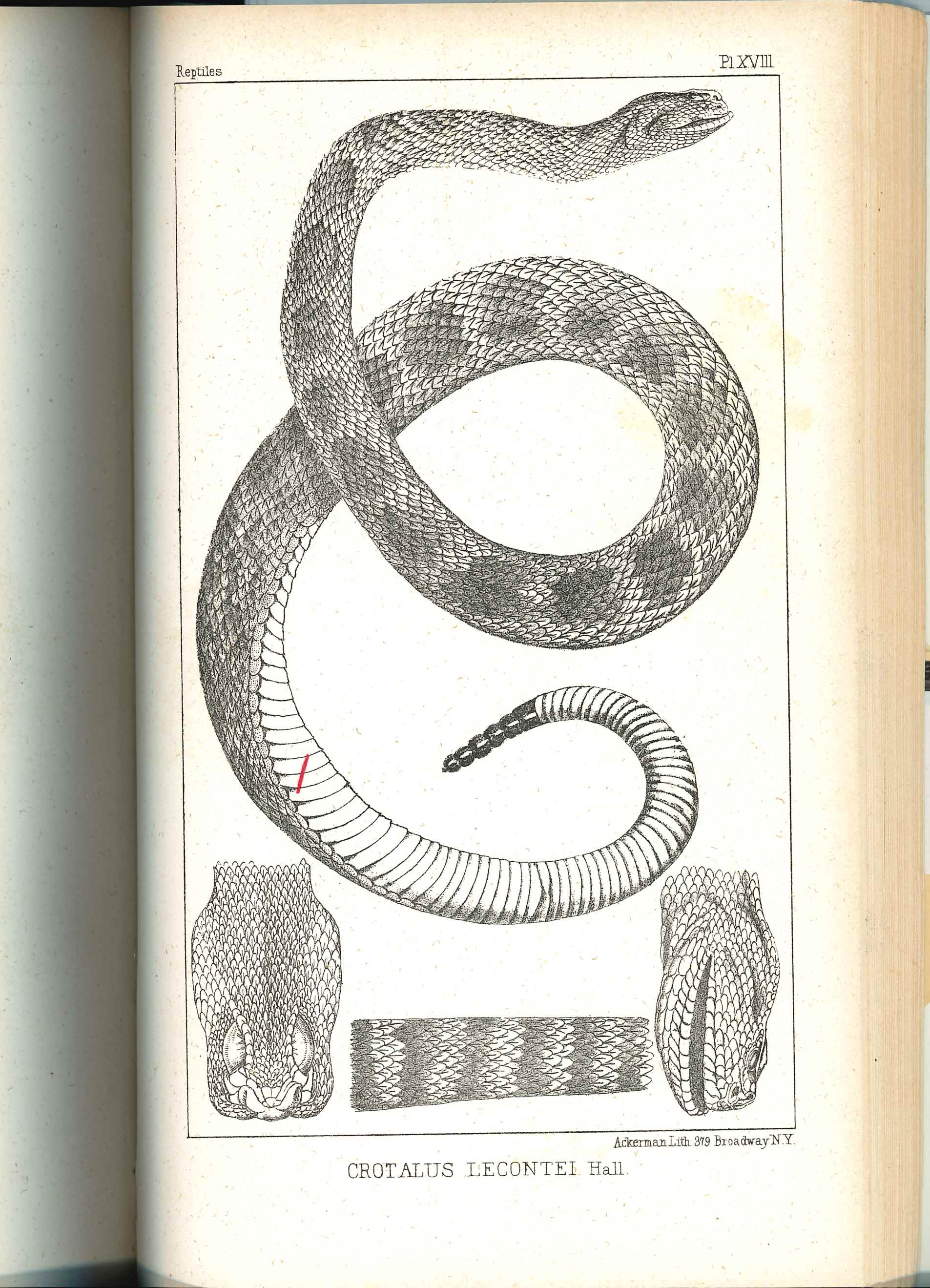 The Sitgreaves National Forest is named for Captain Lorenzo Sitgreaves, the government topographical engineer who conducted the first scientific expedition across Arizona in the early 1850s (https://www.fs.usda.gov/main/asnf/about-forest). One of the oldest books in the ASM Library collection is Sitgreaves's report to the United States Congress titled, "Report of an Expedition Down the Zuni and Colorado Rivers," published in 1854.
This report contains an account of a rattlesnake encounter that resonates still with those of us who live in the Southwest. 
Sitgreaves was selected to lead the effort exploring and mapping territory the United States had recently acquired from Mexico. When the expedition departed from Santa Fe on August 13, 1851, it included the young Philadelphia physician and naturalist Samuel Washington Woodhouse. His job was to look after the health of the men in the group and to observe and collect specimens of birds, reptiles, insects, fish, and mammals in the new territory.  His report appeared in Sitgreaves' book along with beautiful plates of the wildlife.
Woodhouse collected hundreds of specimens that first went to the Academy of Natural Science in Philadelphia and later were dispersed around the country. He clearly enjoyed this work, but his journal also describes a painful encounter with a rattlesnake.
On Wednesday morning, the 17th of September 1851…when about two miles from Zuni, in passing along an Indian trail, I came within a few inches of treading upon a rattlesnake, which immediately coiled himself up and prepared to strike. Jumping back, I drew my ramrod, and with it struck him over the back, with sufficient force to break it. Being a fine specimen, I wished to preserve it without further injury, when, placing my gun on his head, and seizing it, as I supposed, immediately back of the head, picked him up; but, unfortunately, I had too long a hold, when he threw round his head and buried his fang in the side of the index finger of my left hand….The pain was intense.
The doctor kept his head and immediately began treating his injury with every remedy he could think of. He applied a tourniquet, applied suction to the bite, doused it with ammonia, lanced the wound, painted it with silver nitrate, and even resorted to "the western remedy" recommended locally – to get seriously drunk on whiskey and brandy. Days of agonizing pain followed, along with swelling and nausea, but five days later he wrote optimistically in his diary, "I awoke this morning feeling much improved." He feared gangrene most of all. It was not until months later that he realized the damage done to his muscles, nerves, and circulation by the snake's powerful venom had left him with a permanently weakened and deformed hand.
In the years since 1854, guns have changed a lot. Ramrods are no longer accessories for the mandatory muzzle-loading firearm. But as Woodhouse's account reminds us, snakes have NOT changed.
------------
Text by Amy Rule, former ASM archivist, 2012
---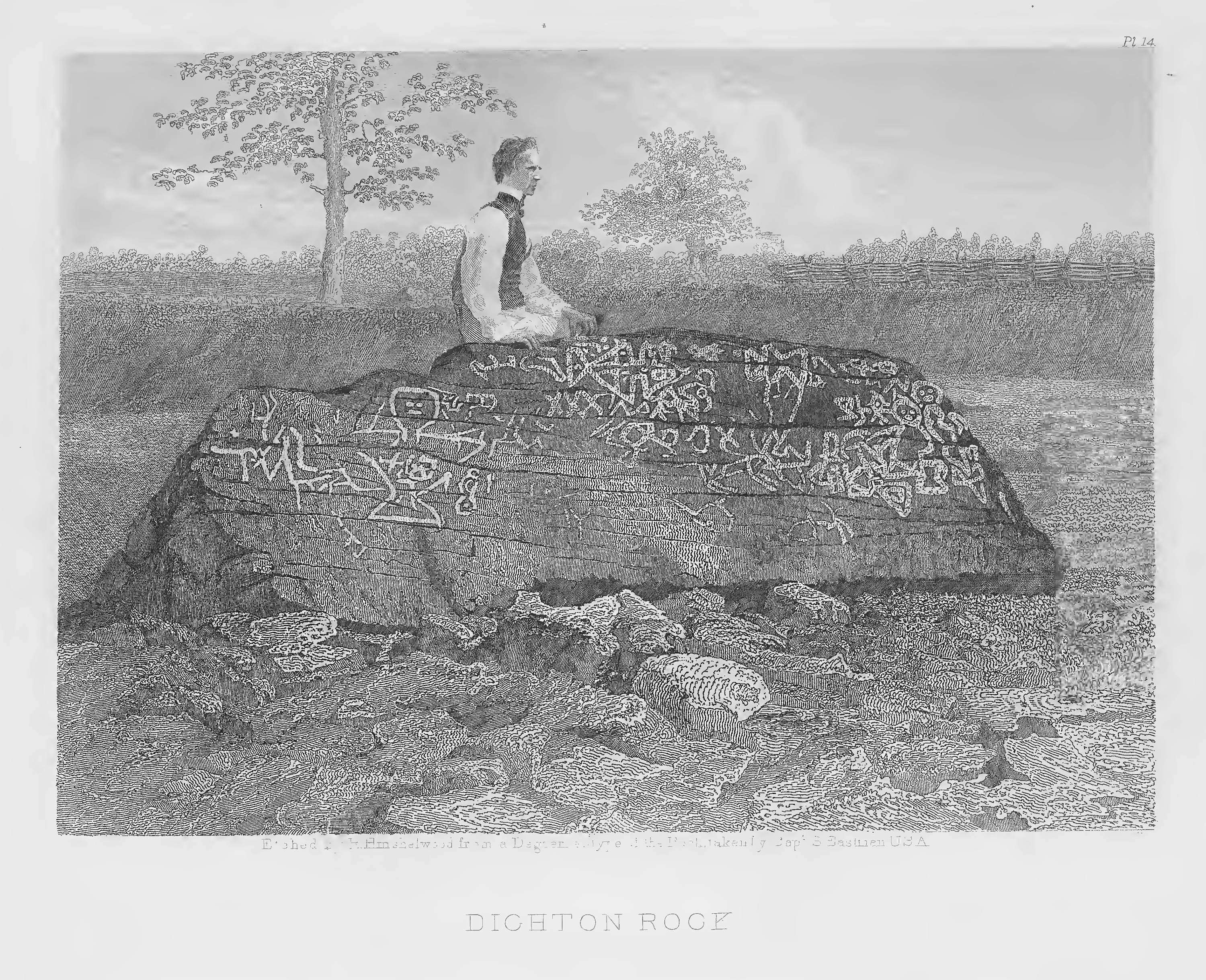 It is not every day that a 150-year-old book in the ASM Library can precipitate controversy and debate, but this happened in 2012 when a visiting scholar examined Henry Rowe Schoolcraft's publication, Historical and Statistical Information Respecting the History, Condition, and Prospects of the Indian Tribes of the United States.
Early American ethnologist, Schoolcraft (1793-1864), published this monumental, six-volume work between 1851 and 1857. Self-educated, he was fascinated by the languages and cultures of Native Americans. He worked as an Indian agent and on topographical surveys of the Upper Great Lakes, and was married to a half-Ojibwa (or Chippewa) woman.
Dighton Rock, a 40-ton boulder in the Taunton River in Massachusetts, was one of his long-term interests. Strange carvings on the face of the rock had been the subject of speculation by settlers since the 1680s. Were they pictographs left behind by Vikings, Portuguese explorers, or the Native people of the area? Schoolcraft believed they had to be Algonquin or Icelandic in origin. He made sketches of the markings, but then decided to obtain a scientific, factual rendering of the rock using the latest technology—photography.
Schoolcraft commissioned local photographer Horatio B. King to make a daguerreotype of Dighton Rock. King set up his tripod and camera in the river on July 7, 1853 and made several exposures showing the rock with chalk dust to highlight the mysterious markings. Artist Seth Eastman posed in his stiff collar and vest atop the rock to provide a sense of scale. One of King's daguerreotypes was used to produce an engraving that was bound into Volume 4 of in the chapter titled, "Scandinavian Claims." For Schoolcraft, the photograph provided the evidence he needed to conclude that the inscription was made by Indians.
But that did not end the controversy. In 1975, National Geographic magazine published a color photograph of the rock in raking light with an expert's opinion that Portuguese Captain Miguel Corte Real left the markings behind after his 1511 voyage to North America.
When Scandinavian petroglyph scholar Dr. David Vogt was conducting research at ASM the spring of 2012, he looked at Schoolcraft's book. In Vogt's opinion, the inscriptions on Dighton Rock were certainly not made by Vikings, but more likely were carved by the Indigenous people of that area.
Dr. Vogt also found an interesting parallel with his own research on petroglyph sites: the intertidal location of the rock. In his extensive survey of Scandinavia's rock art, he has found that the inscribed stones frequently occur in areas where the coastline has undergone change due to the rising landmass of post-glacial Scandinavia. He wondered if perhaps the carvings on the rocks signal a special meaning inherent in the zone between land and water for inhabitants of both the New and Old Worlds.
------------
Text by Amy Rule, former ASM archivist, 2012
---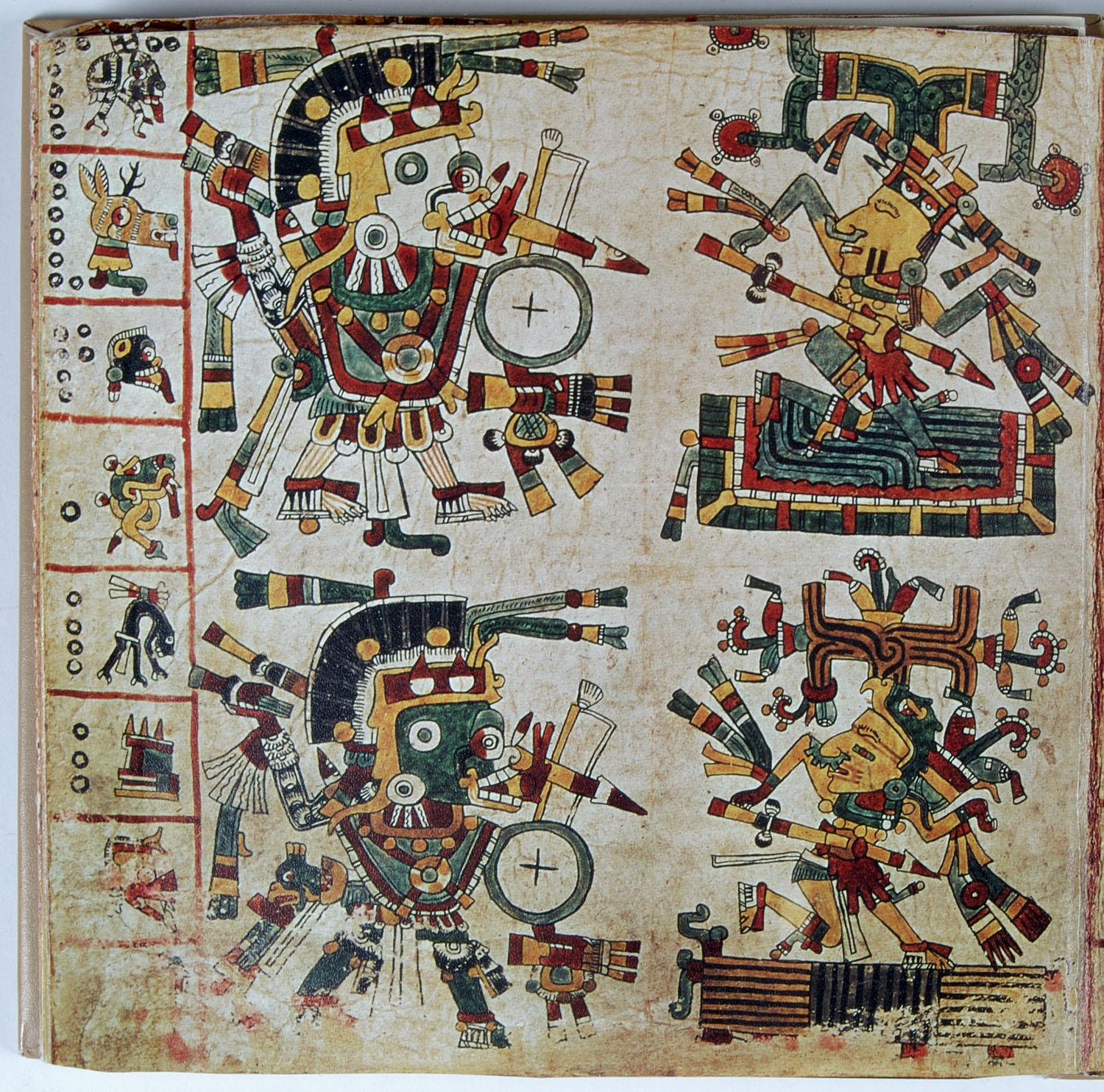 Mexican Codices. Despite the culture whose elite life it chronicles, the content of the Mexican codex is pretty standard. It will specify royal dynasties and serve to legitimize accession lines. It documents conflicts, rituals, and astronomical science. By their very nature, they are excellent records of a very sophisticated system that is being deciphered everyday by experts in epigraphy, art history, and anthropology.
A few highlights of Mexican codices in the ASM library collections include facsimiles of:
The "Codex Colombino," translated by Alfonso Caso under the auspices of the Mexican Archaeological Society, is particularly interesting to Mixtec scholars because it chronicles both pre- and post-contact life. Indigenous scribes added to it to record land disputes with the Spanish. It was actually used as a legal document in Spanish colonial court as proof of indigenous land ownership.
The "Becker Codex I, II," probably part of the larger "Codex Colombino" sheds light on the Mixtec in Oaxaca in southern Mexico.
The cultural affiliation of the "Codex Cospi" scribe is not clear but his style is strongly Mixtec. Believed to have been created in the late fourteenth or early fifteenth centuries, the text reveals much about pre-contact Mesoamerican calendrical science.
The politically, religiously, and historically significant work of the pre-Columbian scribe, no doubt under the patronage of a ruling class, endures not merely as a functional document but as a work of art. Similar in form and function to the contemporaneous illuminated manuscript of Medieval Europe, the aesthetic beauty of the Mexican codex goes far beyond what was necessary, to be sure. Well-composed narratives, attention to detail, and vibrant colors are striking to the modern viewer -- extraordinary considering codices were composed on thin cuts of lime-covered fig bark or deerskin (codex actually means "trunk of tree" in Latin).
The ASM library's collections are searchable at http://larc.asmua.arizona.edu/vwebv/searchBasic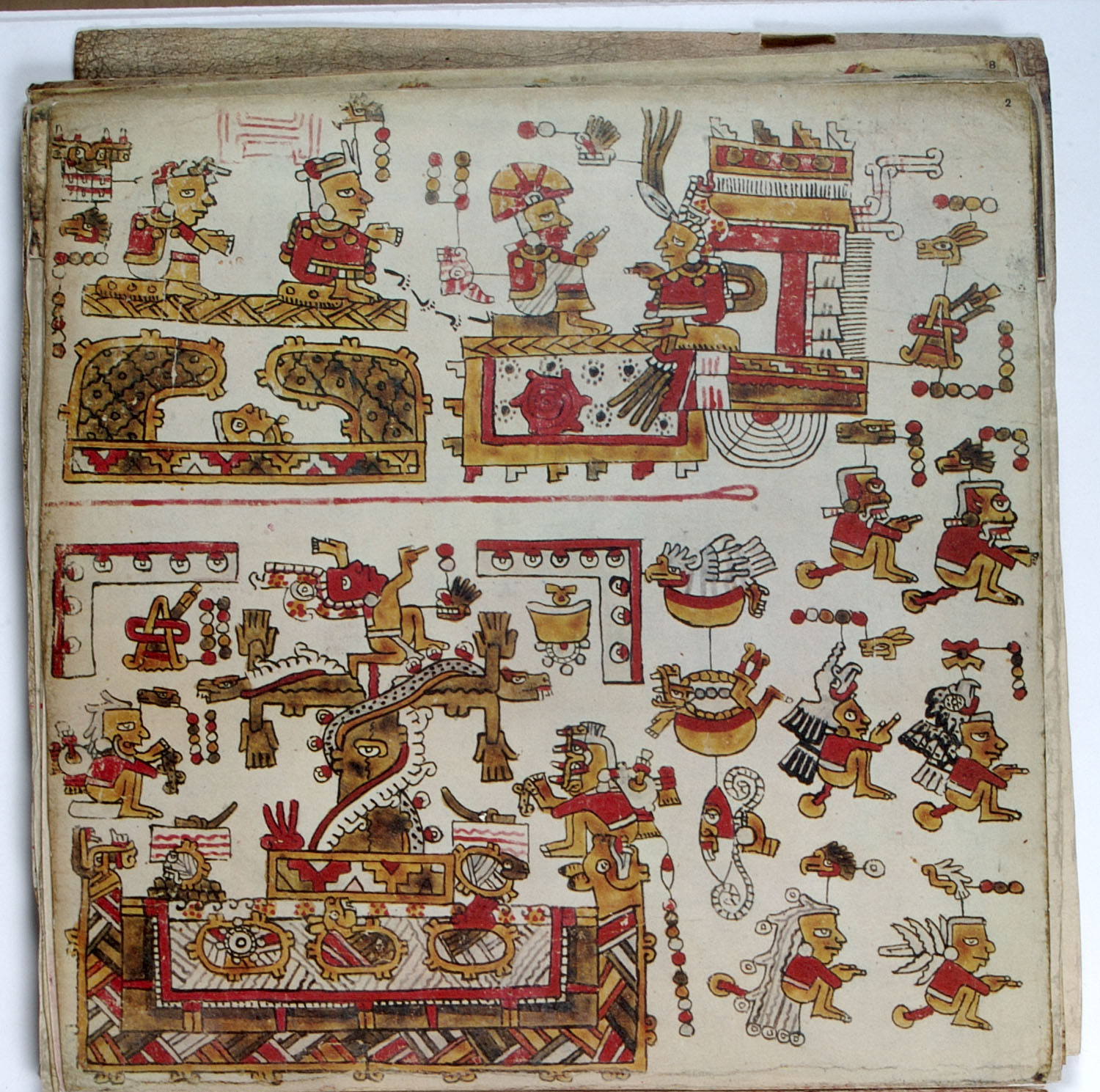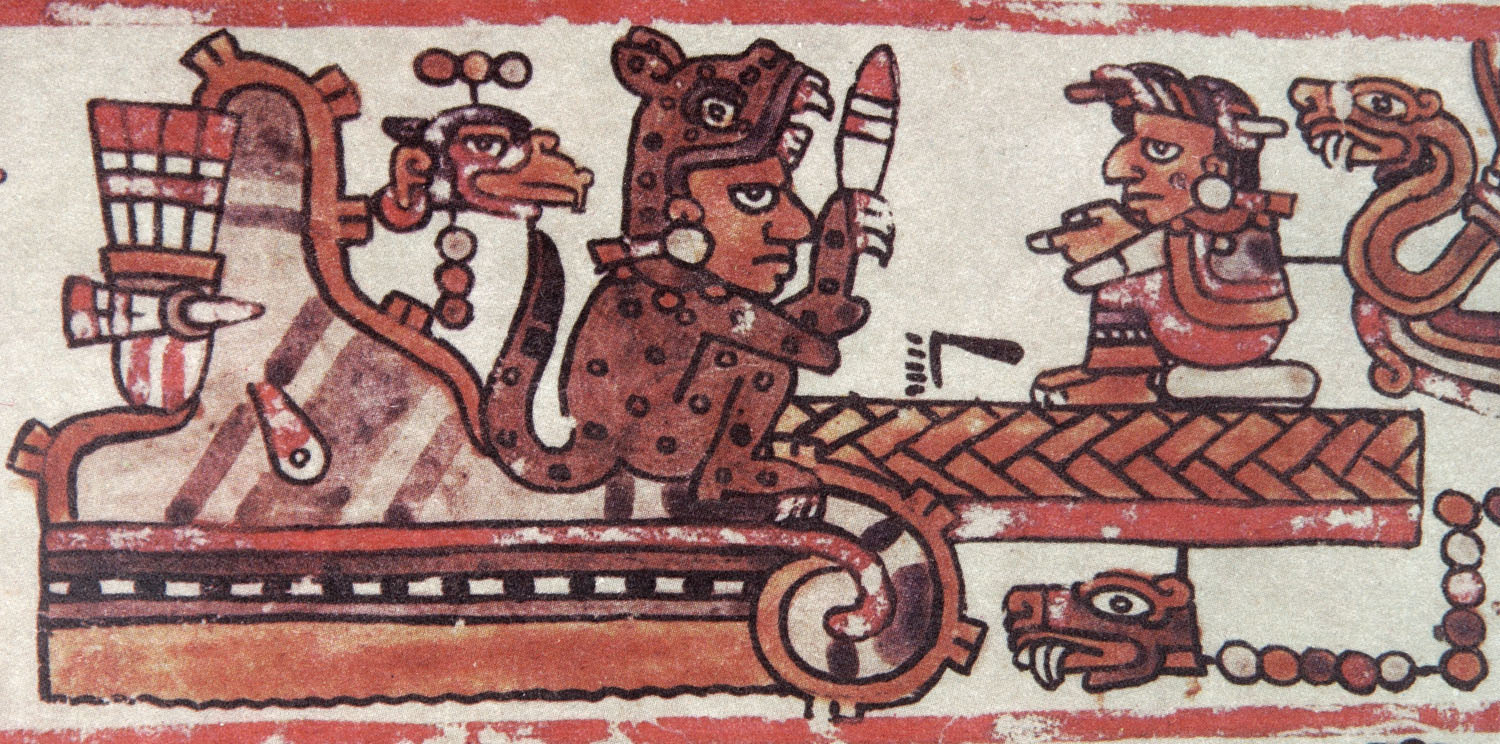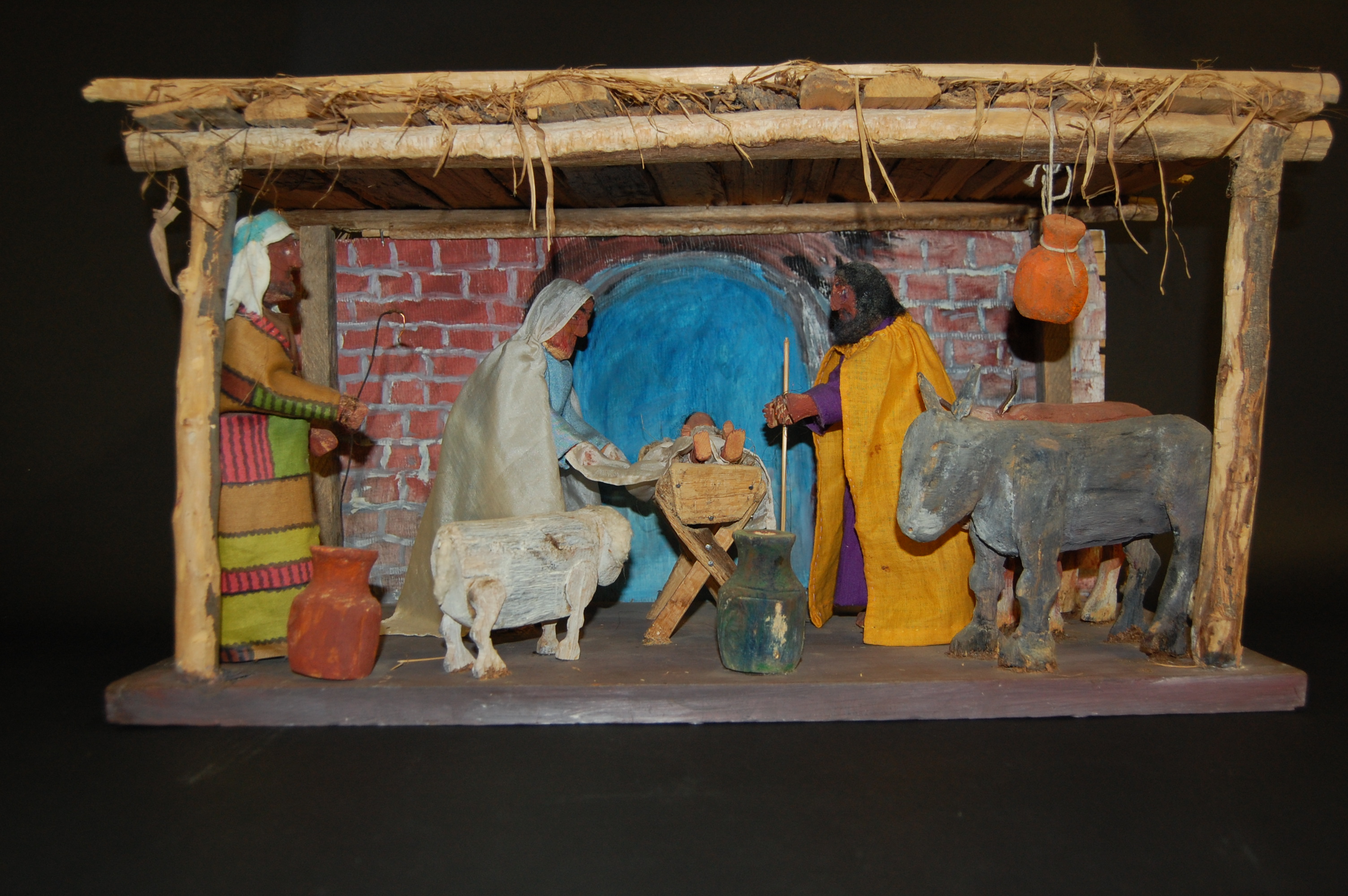 This Nativity scene was made in the mid 1960s by Tohono O'odham husband and wife team Chepa and Domingo Franco. The scene features a painting of Mission San Xavier in the background, and carved figures of Mary, Joseph, the Christ child, a shepherd, and barn animals. The Three Kings, who are regularly spotlighted in nativity scenes, have yet to make an appearance under this O'odham-style ramada with its suspended pottery olla ready to provide water to the weary travelers from the East.
Beginning in the mid-20th century, Chepa and Domingo Franco produced carved figures depicting daily life among traditional O'odham. Domingo carved the wood, and Chepa made the clothing. This is one of a very few nativity sets that they made. ASM commissioned it in 1964, and it was delivered two years later. Domingo died not long after it was completed in 1966. Chepa continued to make figures until her death in 1980.
The Francos' son, Thomas, continued this craft tradition until he too passed away around 2010. The San Xavier Mission owns a nativity scene that Thomas made, and it is frequently exhibited during the Christmas holidays.
---