How to Outfit an Expedition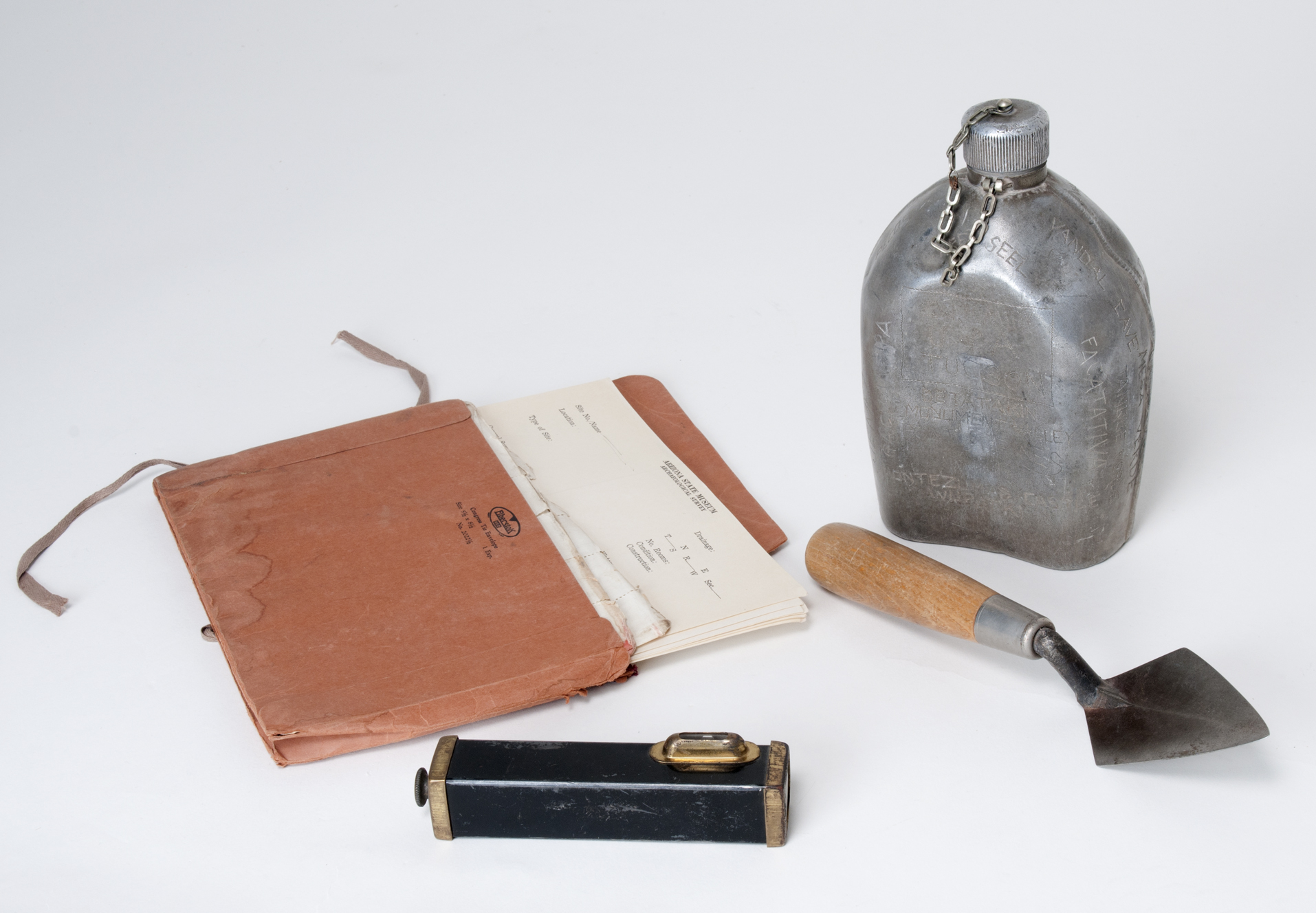 Dr. Emil W. Haury's Field Kit
First half 20th century
Metal canteen with the names and dates of his expeditions scratched into the surface; trowel; level; envelope with Arizona State Museum Archaeological Survey cards.
Height of canteen: 7.25 in. (18.4 cm.);
Width of canteen: 4.5 in. (11.4 cm.)
(ASM Catalog No. 85-84-93)
---
When one thinks of archaeology, archaeologists, or archaeological excavations certain images spring to mind. Most are derived from popular culture figures we all know and love: Indiana Jones, Lara Croft and other fictional archaeologists. Real-life archaeologists (such as Howard Carter and Heinrich Schliemann) and their work have been sensationalized by the media since the early 20th century. We "know" by all these accounts that archaeology is conducted in exotic and dangerous environments filled with risky and exciting adventure, and that somehow treasure is involved.
In reality, outfitting an expedition or a full-fledged excavation project is a huge effort involving planning, organization, logistics, procurement, and personnel management. It's always been that way, as evidenced by Charles Forbes Hartford's 1911 book, Hints on Outfit for Travellers in Tropical Countries, published by the Royal Geographic Society. This manual includes practical details about outfitting an expedition. It addresses clothing, camping equipment, canteens and cooking, provisions, protection from insects and parasites, stationery and writing materials, boxes and packing, medicines and medical requisites, water purification and sanitary appliances, toilet requisites, firearms and ammunition.
On occasion, Agatha Christie created fictional archaeologists in her mysteries. These characters were drawn from her experiences with and observations of working archaeologists. She was married to archaeologist Max Mallowan. In a passage from her 1930s memoir of life on the digs in Syria, Come, Tell Me How You Live, she says this about packing:
 One thing can safely be said about an archaeological packing. It consists mainly of books.  What books to take, what books can be taken, what books there are room for, what books can (with agony!) be left behind. I am firmly convinced that all archaeologists pack in the following manner: They decide on the maximum number of suitcases that a long suffering Wagon Lit Company [railroad] will permit them to take. They then fill these suitcases to the brim with books. They then, reluctantly, take out a few books, and fill in the space thus obtained with shirt, pajamas, socks, etc.
Closer to Home
Byron Cummings, director of the Arizona State Museum and University of Arizona president, organized various archaeological field expeditions for the University of Arizona. This is his 1917 expense account for approximately three months from Wetherill & Colville traders in Kayenta, Arizona. Included are expenses for the herding and gathering of horses; supplies such as coffee, canned milk, lard, bacon, canned peaches; purchasing mutton from local Navajos; kettles, shovels, spoons; laborers (local Navajo men); the rental of pack mules; and the services of Mr. John Wetherill as a guide for 11 days. Grand total:  $240.47.
On a Personal Note
Even preeminent archaeologists start off needing practical advice on the realities of life in the field.  Here is a 1925 letter from Byron Cummings, head of the National Geographic Society Expedition in Mexico, to a young Emil Haury (future Director of the Arizona State Museum), then a college student living in Kansas. Cummings starts off, "May is nearing its close and your college year will soon be over. Then I trust you will pack your knapsack and turn your face southward. Think we can make you work hard enough to earn your "grub" at least. While we continue to excavations, shall want you to help me look after the men and keep the work moving. I have been handling thirty alone since the first of January and my soles are nearly worn through and my disposition ruined, so realize what you are stepping into…"
He continues advising him on the proper attire for his first expedition to Cuicuilco, Mexico  saying "you will want old clothes of kaki [sic]. A pair of high shoes or heavy shoes with leggings are necessary to be comfortable. You will need a rain coat, for the summer is the rainy season here, and fairly warm clothing. The altitude is high and the nights are quite cool."
The future Dr. Haury notes in his journal on June 11, 1925, "This morning should mark the beginning of a new & novel experience. Left Newton on No. 17, at 4:55am, for Mexico City. Mother, father, Olin and Abie were at the depot to see me off. Saying "good-bye" to home and friends isn't the easiest thing in the world to do."
The photos below are from an album created by Emil Haury on the National Geographic Expedition to San Cuicuilco, Mexico, 1924-25 (MS 3: Emil W. Haury Papers. ASM archives).
References
Hartford, Charles Forbes
1911 Hints on Outfit for Travellers in Tropical Countries.  Royal Geographical Society, London.
Mallowan, Agatha Christie
1946 Come, Tell Me How You Live. William Collins & Sons, Glasgow.