Puerco Black-on-white Domestic Dog Effigy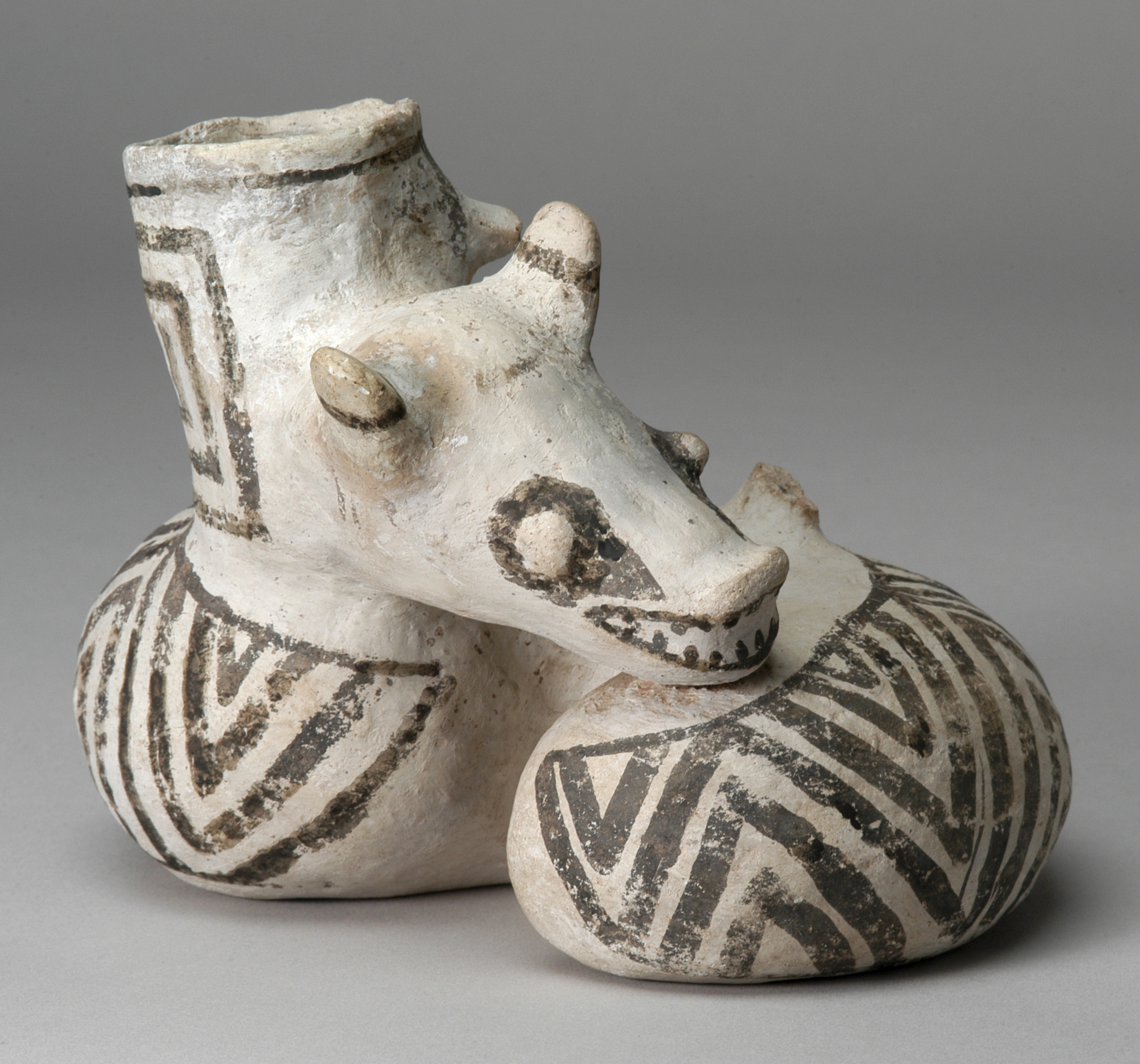 Puerco Black-on-white Domestic Dog Effigy
ca. 1030–1200 C.E.
Anasazi (Ancestral Pueblo)
Cedro Ranch, near St. Johns, East-Central Arizona
Ceramic|
Height: 5 in (12.5 cm), Maximum diameter: 6.5 in (16.5 cm), Mouth diameter: 1.75 in (4.4 cm)
Gift of Norton Allen and Ethel Allen, 1997
(ASM Catalog No. 97-194-1)
---
Although we do not know exactly where in the ruin it was found, from its shape and subject matter, we can still infer something of what it may have meant to the people who made and owned it.
More life-like pottery dog effigies, with four legs and tails, were made in Colima, in West Mexico, from about 300 B.C.E. to 300 C.E. Hundreds have been found as accompaniments to human burials, almost certainly because of the Mesoamerican belief that after death, dogs help their masters find their way safely through the spirit underworld. These pottery dogs may have been substitutes for sacrificing real dogs to include in graves. But "doughnut-shaped" jars like this one were also made, either as a plain ring with a vertical spout, or in the form of a coiled snake or a curled-up dog. Although the Colima dogs are much earlier than this Anasazi example, the shapes are so similar that it is hard to imagine that the Southwestern dog effigies were not somehow inspired by those from West Mexico. One wonders if the southwestern dog pots were also made to be companions for the dead.
A different function is suggested by information provided in the 1930s by Aniceto Swaso of Santa Clara Pueblo, New Mexico, to archaeologist J.A. Jeancon. Swaso recounted that during times of drought, men who knew rain medicine prayed at a shrine for four days, and on the fifth day villagers filled this type of doughnut-shaped jar with water from the shrine to carry back home. "Then in a very short time it rained all over the country and the drought was broken. This never failed."
We may never know the exact symbolism of dog effigies in the prehistoric Southwest, but that these rare jars had some esoteric function seems very likely.
I chose this jar because I am interested in how dogs and people interacted with each other in the Southwest, in both prehistoric and historic times, and because it is an unusual vessel form that prompts viewers to ask about those relationships.
References
Printing this page will display URLs for links to citations.
Ferg, Alan
Lobell, Jarrett A., and Eric A. Powell
Olsen, Stanley J.
1975 The Dogs of Awatovi. American Antiquity 41(1):102-106.
Olsen, Stanley J.
1985 Origins of the Domestic Dog. Tucson: University of Arizona Press.
Schwartz, Marion
1997 A History of Dogs in the Early Americas. New Haven and London: Yale University Press.
Taylor, Tobi, Alan Ferg and Dody Fugate
Thompson, Marc
Varner, John Grier, and Jeannette Johnson Varner
1983 Dogs of the Conquest. Norman: University of Oklahoma Press.
Wang, Xiaoming, and Richard H. Tedford
2008 How Dogs Came to Run the World. Natural History Magazine. 117(6):18-23.